As the Executive Director of Family Ministries, Kendra Fleming oversees all family ministry areas—from birth to college—across all eight Atlanta-area campuses.
Kendra has been the person at the helm as family ministries pivoted online during the pandemic, connecting virtually with tens of thousands of students. Recently, she chatted with Jessica Duquette, who leads the NP Resources team, to share how she has led and what she has learned from this unusual season.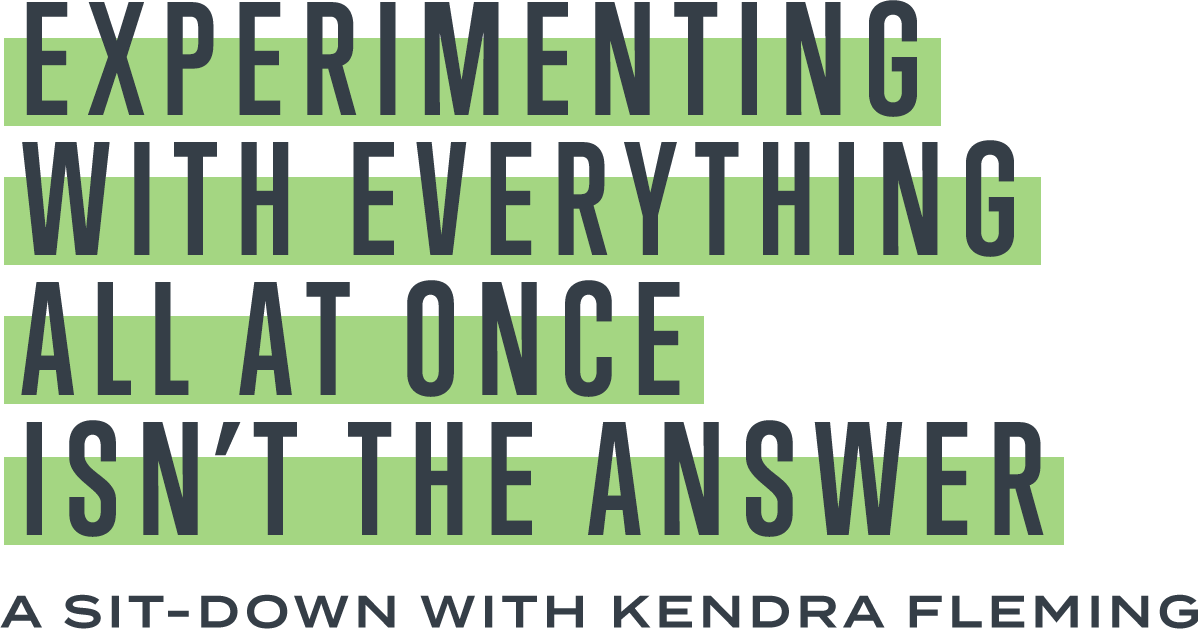 Kendra, let's go back to the earliest days of quarantine. What was your initial approach to creating a church-at-home environment for our littlest attendees, and what have you learned since then?
Once the initial shock (that we were closing the church) wore off, we started off simple—with a "use what we have" approach. It was the obvious first step. For instance, once a month we put on KidStuf, which is a live show for parents and kids to learn together about a big idea like honesty or forgiveness. We film each KidStuf show, not to be edited or shown on-screen, but purely for us to play back later and figure out what we could have done better. So, we thought if we could clean up that video a little bit, maybe it would work. It was definitely a departure from our usual bar of excellence, but families sat down and watched together!
It turns out, this season is teaching us that our standard of excellence may be too high at times.
Another way we repurposed previous work was to take advantage of some of the leftover giveaways we had in storage—like our poster about wisdom. We used social media to say, "Hey, anybody want one?" People gobbled them up! We ended up creating a digital version so people all over the country could have access to it.
That said, one of our key learnings early on was that trying a bunch of things too fast just overwhelmed people. The transition into homeschooling, video conferencing, and limitless screen time was hard on families. Everyone was inundated with things to do or watch from home, and it was easy to get lost in all that noise. We learned that if we tried too many things and sent too many messages too close together, people tuned us out. It didn't matter how great the content was if no one was watching it.
Has anything surprised you about this season in ministry? 
Yes! There is a long-held assumption in our organization that for us to reach the next generation of middle school and high school students, we need to be ahead of the curve technologically.
So, we experimented with lots of ways to get middle school and high school students to engage with us online. We tried interviews about social unrest. We used our most engaging communicators to teach on compelling topics. We had our media team pull out all the creative stops. It doesn't work. Middle school and high school students just don't engage online with anything of substance.
On the flip side, they engage heavily in group interaction. They quickly adapted to digital groups. When participation in those started to wane, they figured out safe ways to meet in person. Driveway groups have exploded in recent weeks. At some of our campuses, you'll see groups of high schoolers with their leaders just social distancing out there in the parking lot.
That has been a surprising lesson. I would have thought we would have been really successful at middle and high school digital content, but ultimately, we've learned that particular age groups want to be in the room with people.
On the other hand, our digital content for preschool and elementary school has gotten a lot of traction. We're still processing what this means for us moving forward.
Let's talk about the road ahead. I know the leadership team at North Point has challenged the entire staff to use this season to rethink ministry. In the world of KidMin, what does that look like?
We were already watching the days of consistent attendance wane. Even though our reach was bigger than ever before (as far as how many people were in and out of our building), our in-person weekly attendance was not growing. It was stagnant at best. Some of our statistics show that kids and parents are coming once every eight to twelve weeks.
There are different ways to look at those numbers, but long story short—now more than ever—parents will expect both physical and digital options. We're seeing this in the school system already with virtual classroom options. Families are looking to mix together the formula that works best for them.
We're still seeing a longing for physical connection; middle school groups are meeting in the church parking lot and parents are asking when it'll be safe to take a mission trip with their child. But ultimately, we're learning that we need to have a strong digital presence when it comes to content.
That's going to be hard for some of our teammates to embrace because we place so much value on small groups, and that mentorship has only ever happened in person, in circles.
The other thing that's top of mind for us these days is our parent strategy. To us, the parent is the most important influence in a child's life. We believe what they learn at home is more important than what they learn on Sunday. Our desire is to fuel those relationships by resourcing parents with meaningful, important conversation starters about God, as well as opportunities to learn biblical principles alongside their child.
So, we have two challenges ahead. First, we need to figure out how to create a digital, shared experience for parents and children. Historically, we have done that with our live KidStuf shows. And while nothing compares to a live show, until everyone feels comfortable being in public with hundreds of other people, we have to find a safe, at-home alternative. This is a big nut to crack.
Secondly, we have to strengthen our digital presence when it comes to resourcing parents with good advice, helpful tips, and information about the hurdles they will face as their kids grow and develop. We aren't there yet; there's a lot of work to be done.
What (if anything) will you retire?
Having operated outside the walls of our churches for almost four months now, we're reconsidering when and why we use our building. For example, historically we've done a lot of volunteer training events onsite—bringing our volunteers together so we can communicate information they need to know to be effective in their volunteer roles. Nearly all of that information can be shared digitally, so we're considering reserving our in-person events for connection, encouragement, or celebration.
Our 2020 summer kick-off drive-thru is a great example of this. Each campus hosted a drive-thru parade where families picked up swag bags of all the materials they'd need for the summer ministry months. We heard so many emotional stories of kids and parents saying how much they missed church, the staff, their volunteers . . . the whole community. We had one mom, whose kids weren't in the car with her, say, "I just wanted to come and get their bags. I didn't realize how emotional it would be just driving onto this campus." We had children asking, "When do we get to come back in? I miss UpStreet," or "I miss Waumba Land."
We could track attendance because of what we were giving out, and basically we had as many people through that line as we would have on an average Sunday. It was an amazing relational touch point for us at a time when our families were longing for that connection and encouragement.
Let's talk about volunteers for a second. How has the COVID-19 crisis changed the way you connect with your volunteers, and what are you learning as you go?
Back in March, we focused on communicating the short-term message of "We'll be back soon." When it became clear we wouldn't be back soon, we transitioned into a "How do we care for our volunteers?" approach. We've prepared meals; we've dropped care packages on front porches; our staff has written a lot of personal notes and made many phone calls. These relational touch points are keeping us connected until we can gather again.
Before the pandemic, we communicated to volunteers when we had something concrete to say, like information about an upcoming event, a new policy, etc. But these days are anything but concrete. Our volunteers have a lot of questions, and we don't have a lot of answers. Saying nothing is not the way to go, so I've tried to over communicate, even when I'm uncertain. I say things like, "Here's what we're thinking," or "We're talking about trying driveway groups. How do you feel about that?" We've done a lot of surveys and focus groups—all with the goal of giving our volunteers a voice so they feel heard and valued.
Sunday mornings don't happen without our amazing volunteers. Keeping them engaged throughout this uncertain season is paramount.
What data points are driving your decision to reopen children's ministry environments?
In our effort to figure out when and how we should open, one thing we've done is survey all of our congregations. Back in early May we sent out the first survey, and we've just recently sent another one. The goal: gauge everyone's level of comfort about returning to church.
At the same time, we've done a series of focus groups with parents of preschool, elementary, middle school, and high school students. I wanted to hear firsthand the kinds of concerns these parents had about COVID-19 and church attendance.
And there was one big surprise.
Typically in our world, the most concerned parent is the preschool parent. So we go above and beyond to remove as many concerns as possible in our preschool environments. Think safety protocols, cleanliness, volunteer background checks, small classroom sizes, etc. I expected the preschool parents to be the most concerned about returning to church. It turns out, after decades of our above-and-beyond safety precautions, our preschool parents have a very high level of trust in us and our volunteers.
The worried and skeptical parents were those with elementary and middle school children. We often heard, "It will be impossible for you to socially distance my child. The crowd will be too big." Given the size of our ministry, I can appreciate that concern.
So right now, I think the solution is to give them options—a digital option for those who aren't ready for in-person meetings and a physical option when people are ready.
When will that be? I wish I knew. The information changes daily. And my crystal ball doesn't tell me whether it's going to get worse before it gets better.
Our school systems here are planning to open in August. I can sense from parents in the focus groups that they are stressed about going back to school. Will my child be safe? Will they have to wear a mask? Should they ride the bus?
Which makes me wonder, Is opening church at the exact same time that school starts back just one more layer of stress for parents? Would we be smarter to push back a little bit? Let parents send their kids to school; let them handle one stressful thing at a time?
This is the tension our staff is living in right now. There's so much planning that goes into a Sunday morning; you can't orchestrate thousands of volunteers at the drop of a hat. Just to have teaching supplies and crafts and videos ready takes a lot of lead time. That's the pressure cooker that everybody is in right now.
Church staffs everywhere are likely feeling similar pressures. Can you share a little about how you're trying to lead your staff these days?
Something Andy has said since the beginning is, "Be married to the mission, not the model." Back in March, our model imploded, but our staff was still really clear on our mission. And they've done an exceptional job accomplishing it in new ways.
So, the thing I've focused our teams on is experimenting strategically and intentionally. There's a tendency to get so excited with the freedom to experiment—not only the freedom the organization is giving, but also just the freedom our world is allowing. People are wanting and willing to try lots of things today that a year ago would have never seemed possible. But experimenting with everything all at once isn't the answer. I've coached our teams to try something new, watch it play out for four weeks, and then evaluate.
One of my current concerns is the fatigue I'm sensing on the staff. Everyone is carrying a lot right now. We surveyed our staff early on in quarantine, and it was apparent that our young parents (who make up a large percentage of our staff) were really struggling. In addition to multitasking school for their kids, job responsibilities, and managing the household, we heard a lot about guilt—people feeling like they weren't able to contribute in meaningful ways to the organization. That got our attention really quickly.
Our staff is our most important resource. We won't be able to turn on a dime and do what is needed for the future if they're not healthy and well supported. I began to prioritize connecting with staff members to give them time and space to process their frustrations and emotions. We're all human and we're all tired. There have been times when people have melted down and times when people say it's too much. We've had people that are sick or family members that are sick, and that's very scary.
But it is our job to lead and love and support them. And if we do that, they will create the change. So far, that's exactly what they're doing.