As Executive Director of Central Services (essentially the CFO and COO), Rick Holliday is the guy tasked with navigating North Point Ministries through the trickiest parts of the COVID-19 crisis.
He is responsible for keeping the organization financially healthy and keeping the operations (accounting, HR, curriculum development, property development, and IT) for all eight campuses running smoothly. The pandemic's effect on the budget and buildings is Rick's domain.
As NPM moves toward reopening, Rick sat down with Jessica Duquette, who leads the NP Resources team, to share how he has led and what he has learned from this unusual season.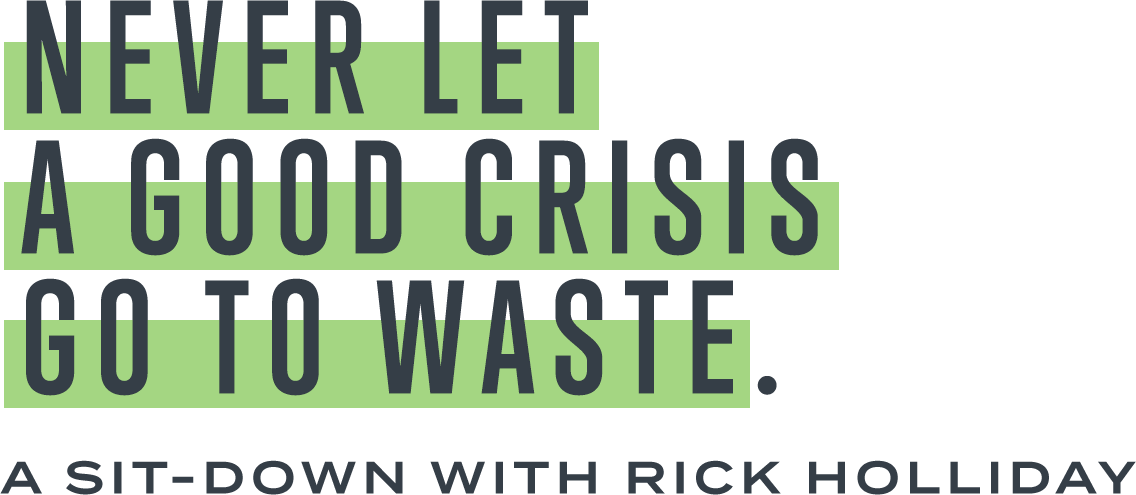 Rick, let's go back to March for a minute. When the pandemic and stay-at-home orders started, what were your biggest concerns for the organization?
On March 17, when most churches were figuring out how not to close, our lead pastors and management team made the call to close our churches for three weeks. At the time, it seemed like an overreaction, but since we couldn't be certain what the future held, we decided to at least be clear. We obviously had no idea we would ultimately be closed for over four months. Like every church in the country, we were asking ourselves, How do you continue to support your community when you can't even open the doors of the church?
I've been very proud of our organization for how quickly we transitioned from what we were doing before to a digital presence. It speaks highly of our staff and our congregation. It helps that we're in an affluent area with a lot of technology. But the fact that we had digital adult groups, student groups, parenting curriculum, music resources, and all of that up and running by the second week was super helpful. I think those changes will have some legacy into the future.
Given my financial role in the organization, another primary concern was income—the unknown of how the COVID-19 crisis would affect our giving. We're a six-campus organization with 623 employees, so the financial implications of a steep decline in giving weighed heavily on all of us. The question wasn't whether giving would be affected, but how severely it would be affected.
What financial guardrails did North Point have in place that have helped weather this storm?
We're 25 years old this year, and we've always operated with a 10% margin of the revenue that we anticipate collecting. So, if our revenue target is 100%, our expense budget is built around 90% of that number. We set aside the remaining 10%, and we don't plan to spend it.
I'm extraordinarily grateful for that because revenue could drop 10% before we ever had to think about any kind of programmatic changes.
I grew up in a ministry model where whatever your income forecast was, the expense forecast was that plus 1–2%. As a result, you stayed in a constant state of stress, because you had to meet the income projection just to cover the spending that you're already doing and committed to. We've never felt that. And not feeling that, personally and as an organization, is a wonderful thing.
In this season in particular, that financial security allowed us to protect our employees. I heard leaders of some organizations at the very beginning of this pandemic who were already saying, "What do I do? I'm going to have to lay people off, or we're going to have to cut salaries." We've not had to lay a single person off. I am so grateful for that.
There are going to be leaders out there who say, "Okay, I'm the church you're talking about. We budget more than we actually take in, and we're always upside down. What do I do?"
You've got to have the discipline at some point to say, "We're going to start creating margin." But don't make your target 10% or 15%. Make your target 1% or half a percent. At the very least, you ought to spend less money than you take in. Then just take baby steps, each year increasing it in small incremental ways. In my experience, the two areas where people slip up the most are salaries and benefits and debt. They take on too much debt, or they hire too many people. Exercising discipline will mean saying no to some opportunities and some positions. Believe me, we've said no.
It may be hard to believe that North Point has had to say no to something. You're a six-campus megachurch in the Bible belt. Can you give us an example of a recent no?
Last fall, we went through a season where we'd gotten uncomfortable with our salary and benefit to income ratio. It wasn't urgent, but to keep us financially healthy, we decided there were some staff positions that we were no longer going to fund. We closed some open positions before they were filled, and—much tougher—we let some people go.
Historically, we've said that we want our salaries and benefits to not exceed 45% of our projected operating income (excluding capital campaigns, building funds, or other designated funds). In our model, we've found that we shouldn't go below 40% because the experience for our attendees suffers and our staff is stretched too thin. And we shouldn't go above 45%. When we've lived in between those, we can operate our ministry model with maximum efficiency and benefit.
As a point of reference, I would say that most churches I know of operate in the 50–55% range of salaries and benefits to income. I know some churches that have driven that number as low as 20%, but it's with a very, very thin staff for a lot of attendees. I've also seen the number as high as 82%, but that organization eventually realized that even though it had a lot of revenue, it was an unhealthy number of staff. So, I would say if you see the numbers closer to 20% or closer to 80%, you probably have some work to do. If it's 50% or less, you're probably in the right ballpark.
So last fall, our salaries and benefits to income ratio had crept up further than we were comfortable with. Did we see the pandemic coming? No. But are we now grateful to have had the discipline to make those hard decisions because it set us up to weather this unexpected season? Absolutely.
Bottom line: You never know at the beginning of a year what's going to happen, but having the discipline to do what it takes to be ready is critical. And it's not always a crisis you need to be ready for—sometimes it's an opportunity like purchasing a piece of property, starting a new ministry, or investing in equipment. So set a benchmark and have the discipline to stick to it.
Andy recently preached a series called Better For It. In it he says, "Pain without gain is a shame." How is NPM using this as a lens for organizational change?
What a great series. I highly recommend leaders listen to it and consider the practical application of what Andy's talking about. Another way of saying it is, "Never let a good crisis go to waste."
To put it into practice, Andy recently challenged our staff with three questions as it relates to being "better for it."
RETHINK: If we were starting over, what would we start doing that we have not traditionally done?
RETIRE: What have we been doing that we would not consider doing if we were starting over?
RETAIN: What did we start doing in this season that we should continue doing when this season ends?
This evaluation is happening at all levels of the organization. In my role as CFO, one of the biggest changes already underway is the change of the fiscal year.
Twenty-five years ago, we started with a fiscal year that matched the calendar year. The current pause in programming has given us some margin to rethink the way we do things. Changing the fiscal year to July through June aligns with the school calendars and our ministry cycle. The majority of our staff doesn't have a detailed understanding of accounting, so keeping our fiscal year and our ministry season aligned is helpful to them. As well, moving December (our most critical giving month) to the middle of the fiscal year will allow us to make more informed spending decisions. A strong December may open up some additional opportunities that we might not otherwise take on.
As I said, with our campuses closed, our expenses look a lot different these days. It's given us time to evaluate where we're spending money, and it's making us rethink how we will spend it moving forward. We're paying close attention to the survey data of our own attendees as to when they'll feel comfortable coming back to church and using that information to prepare accordingly. We're also connecting with other large church friends as they begin reopening. One very large church friend of ours had one-sixth of their normal attendance when they opened in May. We've heard recently some numbers more like 50%. I think I'd be surprised if we had more than 50% of our regular attendees show up. Operating our campuses at 50% capacity has financial implications as well.
What have you started this season that you'll retain?
There's a lot of conversation happening right now around how to continue the digital initiatives that have been successful during the pandemic—things like digital small groups, on-demand service options, and Facebook Live events. We're not going to abandon in-person church, but it may very well be that people are just afraid, at least until a vaccine shows up, of gathering. So, Facebook, YouTube, and other social media might just become the new "foyer" for us (i.e., people's first experience with us may be online, not in person).
It makes you wonder, could we—on an ongoing basis—spend less so we could allocate more resources toward digital initiatives? I think that's probably the long-term legacy. We'll try to figure out how to continue to reach people digitally first, then ultimately drive them toward the local church.
While we're not on the other side of the COVID-19 crisis by any means, are your initial concerns still valid?
Revisionist history is terrible. Trying to measure what you did then against what you know now is a pointless exercise. We can only continue to evaluate our current situation with the information that we now have in hand.
Strangely enough, the income piece is of less concern now. It's not a non-concern—the truth of the matter is our income is off from our projection. But [with our six campuses closed since March 17] our expenses are down considerably. So we're actually in a slightly better financial position than we were when this whole thing started, if you look at the bottom line. I never saw that coming.
Over the last five years, we've also really encouraged our attendees to automate their giving. In fact, we "kicked the bucket" a few years ago and stopped collecting an offering during Sunday worship. We couldn't have seen this coming, but that had an enormous positive impact on what could have been a huge interruption in our giving patterns.
Because of the financial health of our organization, the decrease in operating expenses, and the continued generosity of our attendees, we were able to tell our staff early on, "You are our number one priority. We're going to do everything we can to save your jobs, and we have no intention of laying anyone off."
The breath of relief that went through the organization when we said that was amazing. I've had countless Zoom calls and conversations with staff members who are so incredibly grateful for that reassurance. We did not intend for employee loyalty to go up, but I think it has. Our staff is our greatest asset, so that may be one of the biggest unintended benefits to this season.